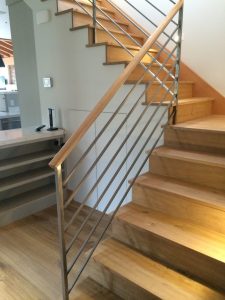 Butte West, LLC has provided quality fabricated metal products since 2014. Alex McFarland, CEO, has been designing, welding, and fabricating since 1989. We have the capability to provide you with services beginning with consultation, design, shop drawings, and ending with product completion and installation. It is our goal to provide a one-of-a-kind quality product.
Butte West possesses the infrastructure, knowledge, and willingness to address all of your custom metal fabrication needs. Our employees will meet with you to discuss your projects and help with design, both functional and artistic, offer potential options, create shop drawings, fabricate and install projects as needed.
All Butte West employees hold welding certifications to ensure your projects are produced using the highest welding standards. We can create projects, both on location or in our shop.
Contact us and discover what we can do to help you with your next project.
We can help with the following services:
Railings
Fireplaces
Gates
Custom Furniture
Structural Steel Shop
Drawings
Certified Welding Design
Manufacturing
Repairs
Custom Metal Fabrication
Demolition and Removal
Stainless Steel Welding
Aluminum Welding
Decorative Steel Installation
Delivery
Metal Patina Finish
Rusted Steel Consultation
Powder Coating
Field Measuring